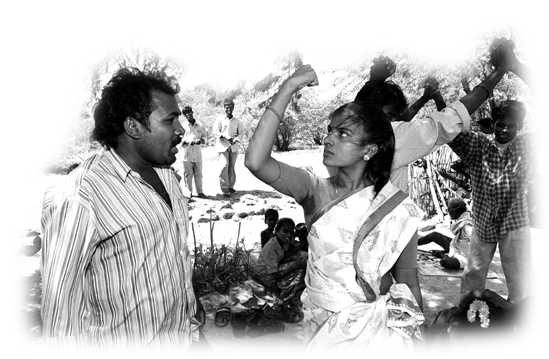 Community educators present the suffering of the Dalits through a drama in Kanglvakam, a Dalit village about 45 km south of Chennai/Madras. - Photo: Peter Williams, WCC.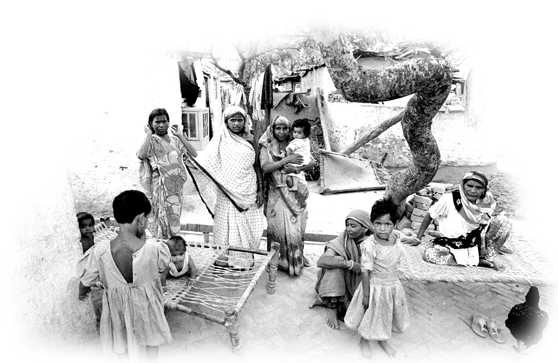 Another scene from Kusumpur - Photo: Peter Williams, WCC.
E:
What does it mean to be a Dalit in the current political situation in India, with the rise of Hindutva and Hindu nationalism?
D: Firstly, as I said earlier, the current political situation is marked by the fragmentation of political power. Narrow ideologies, local issues and local parties dominate the national political scene. These narrow political interests lack ideological bases capable of guiding the life and future course of a nation as large and diverse as India. These local powers exploit caste, ethnic, religious, linguistic, and other, sentiments to consolidate their hold over the masses. The Dalits gain nothing from these powers except unfulfilled promises and continued bondage.
Secondly, the protagonists of Hindutva are the wealthy upper castes who have monopolised the country's business and industry and, using the pretext of India's economic growth, are striving hard to see that their interests are met in the market world. This version of cultural nationalism, as preached and practised by those who have benefitted from the caste system, can only be destructive to the majority of Indians - nearly four-fifths of the population. And the Dalits are its worst victims.
Thirdly, during the past two decades there has been a significant trend of growing awareness and solidarity among the marginalised sections of the Indian society. The rural and urban poor - who are mostly the Dalits, tribals, backward castes, women, agricultural labourers - are getting organised and are threatening to shake the unjust foundations on which Indian society stands. Hindutva forces want to deal with this growing solidarity among the oppressed by sowing seeds of hatred along communal lines, and thus ensure their continued hold over the politics and economy of the country. The recent atrocities against Christians in Gujarat and Orissa illustrate this point. These hitherto oppressed and exploited tribal communities, with the moral strength and dignity their new faith has given them, began to raise their voices against unjust wages and unfair treatment. So right-wing political leaders want a debate on conversions, not on the evil practice of caste. They hope thereby to arouse Hindu sentiments and cover up some of the gross injustices.
E: Do you think the caste system will be overthrown?
D: As a Dalit and as a part of the Dalit movement, I am committed to the vision of a casteless Indian society. But it has always been and is a very arduous struggle. Caste is changing its manifestations and dynamics. Today it has become a political weapon. Caste identities are an important feature in the political games. Political adjustments, alignments and compromises take place along caste lines. Within this ethos, the Dalits are also getting organised politically, but without a well-marked ideological focus. Unfortunately, instead of fighting caste by submerging their given caste identities, some Dalits have begun to fight with each other in some places. So, it seems to me that caste will be with us for some time.
The silver lining is that Dalits and Bahujans (backward castes) are struggling hard to overcome these internal divisions and to fight together to overthrow the shameful practice of caste. These movements of the despised are the only hope for a united and progressive India. What is needed is a coordinated effort to develop a strong and pragmatic Dalit ideology that would inspire the victims of caste to shed their given identities and to work together for a society free of discrimination and oppression.
Manchala Deenabandhu is presently working in the Justice, Peace and Creation team of the WCC as executive secretary for Peace concerns. He comes from Andhra Pradesh, India, and is a member of the Evangelical Lutheran Church in India. In 1994 he became assistant professor in the Department of Dalit Theology in Gurukul, Madras. He has written several books and published many articles and papers.