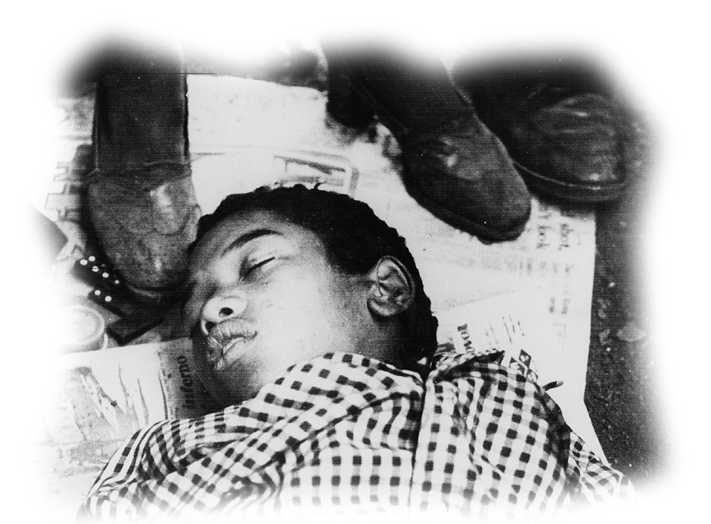 From murder to massacre and genocide
The horror of racially motivated murders is too painful to comprehend. It leaves a long-lasting negative impression on the minds of the victims family, community and society as a whole. It is a signal and warning which Christians, and people who care about humanity, should never ignore. It is a warning of the consequences of racial and ethnic hatred which, if unchecked, can lead to the indiscriminate slaughter of men, women and children by other human beings justified by hatred, enmity and dislike of the other. The genocides in Rwanda, Bosnia and Kosovo are recent reminders of the evil that can be generated by political systems. History is littered with similar examples, and we must never forget the systematic violence meted out to slaves, Indigenous Peoples and others during the slave trade, colonialism and imperialism.

Response to racial violence
The state response to racial violence indicates the way society, the institutions and the political systems behave towards those who are perceived to be different. In many countries, people have been murdered because of their ethnic origin, nationality or their colour. In Britain the list stretches to over a hundred Black people murdered over the last ten years. The most well known case is that of Stephen Lawrence, stabbed to death on 22 April 1993 as he waited for a bus in London. The attack was unprovoked and the only reason for his murder was that he was Black. His death was tragic, but the failure of the justice system to catch and prosecute those responsible added to the grief and injury felt by his family, the Black community and anti-racism activists everywhere. The enquiry which ensued, following his parentís persistent campaign in pursuit of truth and justice, revealed entrenched institutional racism within the police force which had led to inexcusable errors in the caring for Stephen as he lay dying. There is no doubt that racism played a crucial role, not just in the stabbing but in the subsequent response made by the police. Stephenís life was meaningless not only to his killers but to the system in the country he called home.

The state responds to resistance against racism with ever-increasing sophistication, including legal measures and advanced military force. The increase of extremist political parties who distribute materials which incite racial hatred, and the fact that government condemnation of racism, in most cases, amounts to meaningless platitudes, has meant that perpetrators of racial violence feel empowered and encouraged to continue their racist practices. States sanction racial violence by legal documents, rules and procedures which portray certain groups of people as inferior, as criminals or scroungers.

Across Europe, and no doubt in other parts of the world, anti-racism campaigners and organisations have documented and monitored a large increase in racial incidents and violence. In recent years there has been an unprecedented increase in the numbers of internally displaced people, refugees and migrant workers. At the same time, powerful countries have introduced stringent control measures to keep those displaced people out. There is an undeniable body of evidence of the role of the state in perpetuating racism and racial violence. The Migrant Newsheet (published by the Migration Policy Group, Brussels) produces a monthly digest of the experiences of refugees and ethnic minorities in Europe. In March 2000, it reported that an Austrian high-ranking police officer, who was accused of suggesting that Africans should be beaten before asking them any questions, had his case dropped by the public prosecutor.

The role of religion
The role that major religions played in causing and perpetuating racism, and the associated violence that went with it, must be acknowledged and the sin of racism must be confessed as part of the healing process. The churchesí recent record of standing with the oppressed is notable. It is essential that the church continues to speak out against oppression and support those who resist violence. At the dawn of the WCCís Decade to Overcome Violence, as churches draw up their action plans, the issue of racial violence must be included from the start. For many people it is easy to recognise and name violence associated with wars, ethnic cleansing, and state aggression against its own citizens. However we must understand and make links between the root causes of violence against individuals and other forms of violence. The fear, hatred, dislike and the negative attitude towards people because of their ethnicity, colour, cast, religion, class or gender, when nurtured and fuelled by those who have the advantage of possessing economic, military or political power, can be turned into the ugly and obscene annihilation of people and a total disregard of their humanity.

The church can, and must, nurture a culture of non-violence and restore through a healing process a world where we can live in peace and without fear. To do this, the church must be bold and confident in leading the way to a better common understanding and respect for human rights of all people.

Mukami McCrum is the Moderator of the WCC Womenís Advisory Group and was previously a member of the Justice, Peace and Integrity of Creation Commission. McCrum was born and raised in Kenya where she worked as a teacher before moving to Scotland where she raised her family and studied at the University of Edinburgh and at Moray House College of Education.

She is a sociologist and has previously worked as a community worker and as a project coordinator. She was a founder member of Shakti Womenís Aid, a project for Black women against violence. She is a member of the Board of Akina mama wa Afrika a development NGO for African women in Europe and Africa. She plays an active role in the SISTERS network of the JPC team. She has been a member of government race forums in UK and Scotland and is currently employed as the Director of Central Scotland Race Equality Council in UK.