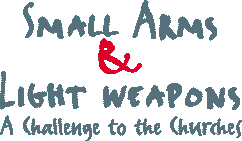 Churches are well placed to acknowledge the impact of small arms. They minister to the victims and their families around the world, in rich and poor nations.
Aware of people's needs, churches are uniquely positioned to address the small arms epidemic by identifying its material, moral, ethical and spiritual dimensions.
Churches can inform, mobilize and guide their communities, offering a unique and holistic contribution to the international microdisarmament campaign.
The voice of the churches can make a difference!
It is urgent that churches see the proliferation of small arms in the context of the Decade to Overcome Violence. Churches should join hands with one another as well as with peace and disarmament organizations to raise awareness and promote the implementation of measures to control the production, transfer and use of small arms and light weapons.