Violence against women is sin
The "one experience which women have in common with each other, regardless of their status in the church or society, is the experience of violence, in our homes, our societies and even our churches", declared Bertrice Wood, a minister in the United Church of Christ in the United States and co-moderator of the pre-assembly festival marking the end of the Ecumenical Decade of Churches in Solidarity with Women. "Women know that violence against them, in whatever form, is a sin." Wood called on churches to "take the bold step" of delaring violence against women a sin and "contrary to the very essence of the church, the body of Christ".

Syncretism without regrets
Korean feminist theologian Chung Hyun-Kyung, who created a stir at the last WCC assembly in Canberra in 1991, was back again, participating in the Decade Festival just before the Harare assembly. She said she had "no regrets" about her controversial address in Canberra -- evoking in traditional Korean style the spirits of people martyred and murdered, and linking them to the Holy Spirit -- which led some listeners to accuse her of paganism and syncretism. In an interview with Ecumenical News International, Chung said, "Yes, I am a syncretist; I know where I am coming from. I think that my Christianity, which is meaningful, which is incarnated in a specific people's history, is sure to be syncretistic... Christianity has to be relevant, otherwise it becomes a museum piece. Who wants to see a museum piece? If we want to see something alive today, it should be incarnated in a real context."

On speaking terms
At a special celebration of the 50th anniversary of the World Council of Churches, former WCC general secretary Philip Potter noted evidence of progress in overcoming the divisions among Christians. "The historic churches are now all on speaking terms," he observed. "Within the last 40 years there have been remarkable comings together and conversations between the major families of the Eastern and Oriental Orthodox churches, the Roman Catholic Church, and the churches of the Reformation and their offshoots."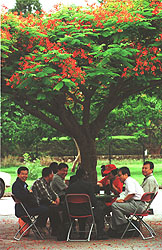 A delegation relaxes under one of the
stunning flame trees on the campus grounds
Photo by Chris Black/WCC
Click on the photo to order (ref. 7119-03a)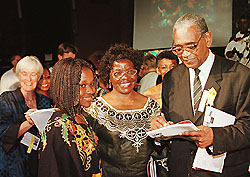 Philip Potter meets up again with the daughter of Mrs Sithembiso Nyomi, who as a bady had been handed to him in a symbolic gesture at the WCC's sixth assembly in Vancouver in 1983
Photo by Chris Black/WCC
Click on the photo to order (ref. 7178-22)