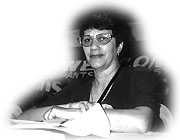 Te Rua Winiata,
Maori.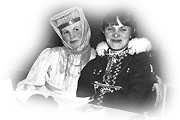 Olga Melentieva and Elvira Galkina,
Sami of Russia.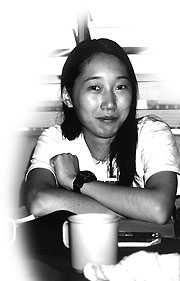 Yuuki Hasegawa,
Ainu.
We all came under the label of "Indigenous Peoples". While we recognized some commonalities we recognized even more diversity. However the diversities were an enhancement to our relationships rather than being problematic. We talked about an indigenous way of life being holistic. Iím still not sure what that meant.

For me, as a Maori from Aotearoa, my understanding of an holistic approach to life, is the recognition that for my basic and total well-being there needs to be a balance between the taha wairua (spiritual), tinana (physical), te hinengaro (emotional) and te whanau (family/identity). There is a recognition of the relationship between the earth and the sky and all that comes between. I learn how I am part of the whole. Therefore I can say I belong to the earth. I do not own the land nor do I have dominion over the land. I understand that my relationship with creation means that I have a res-ponsibility to care for Papatuanuku (earth) who provides me with the resources I need for life. To needlessly destroy or take more than my share of the resources, is to walk the path of self-destruction.

Although this becomes harder in todayís context, it is still possible and even more important because Indigenous Peoples are usually the minority group in their countries. However, the changes in the ecological balance are obvious and Papatuanuku groans as humankind continues to poison and destroy her. She will not allow this to continue for ever and gradually we can see the changes happening. As an Indigenous person, with the knowledge that I hold, I must continue to be with Papatuanuku in the struggle to correct the imbalances. I was not sure if this was the understandings all Indigenous Peoples held.

Amongst the people I met, were realities of extreme poverty, a lack of adequate resources for basic living, inadequate education systems, oppression, militarization. Yet some still found hope in a pool of hopelessness.

The imbalances are far greater than in Aotearoa. So what could I share? The colonial histories are very similar; the ongoing land struggles come from a similar experience but we are certainly not equal.

The challenges the group faced included:
Being colonized -- having others wanting to civilize us;
Loss of language and identity;
Oppression by the majority (in most situations); the government and the Church;
Poverty and lack of resources.
They (the church) expect us to fail.
We have lost our language and identity.
They (the governments) want to assimilate Indigenous Peoples into the majority.
The missionaries told us our ways were pagan and they have been lost.
We need to build up our self-esteem.
As Indigenous Peoples, education of the colonizers was denied us.
We are the oppressed.
We are marginalized.
We are voiceless
Yet,
We are still alive
We belong to the Earth
We have not given up
We are spiritually strong
We have hope
For many Indigenous Peoples, learning is also a collective experience. Members of a community come together for a hui because it is an opportunity of being together as much as it is an opportunity for learning. Co-learning continually takes place with "teachers" becoming "learners" as often as "learners" become "teachers". In this situation interaction is open between participants so that the whole person is open to whatever is offered. Whatever the reason for being present on these occasions, learning will happen although it may not be immediately obvious to either the teacher or the learner.