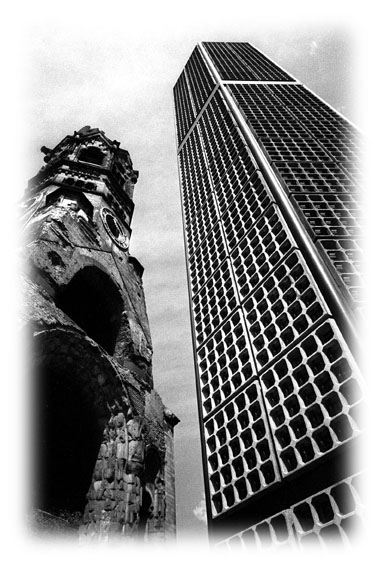 © John Taylor/WCC


Kaiser-Wilhelm-Gedächtniskirche
The new and the old - The old church was badly damaged during the second world war, on 23 November 1943. After much debate on whether to demolish it, a new church was finally built next to the old one, and consecrated in 1961. The past and the present are thus placed side by side in a stimulating, yet harmonious tension, emphasizing that in a world of violence there can be hope for peace in the future.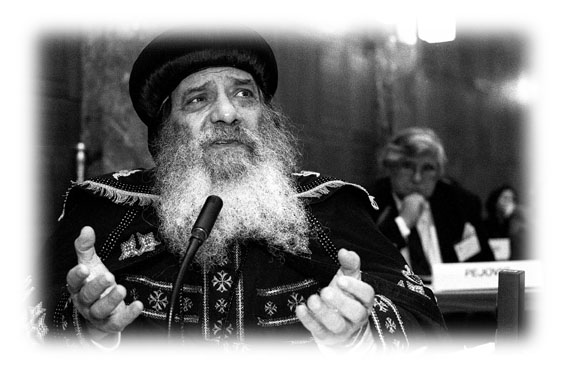 © Peter Williams / WCC
Pope Shenouda III
His Holiness Pope Shenouda III, head of the Coptic Orthodox Church in Egypt and president of the Middle East Council of Churches (MECC), was awarded the 2000 UNESCO Madanjeet Singh Prize for the Promotion of Tolerance and Non-violence, at a ceremony on 16 November 2000. Pope Shenouda was a WCC president from 1991 to 1998.
Visit DOV's website!
You will find an introduction to the DOV vision and mandate, a DOV prayer, and an explanation of what the logo symbolizes. There are stories and photos on what people and groups around the world are doing to overcome violence, links to the Peace to the City network website and to a growing list of the websites of other local, national and international peace movements. And there is a calendar of DOV-related events and an online form that you can use to let us know what you are doing to overcome violence - so we can share your story with others.
DOV communicator
Diana Mavunduse was appointed WCC DOV communicator and started on 1 November 2000. Before joining the WCC, Diana worked as a researcher/writer at the Southern African Research and Documentation Centre (SARDC) in Harare, Zimbabwe.

Born in Zimbabwe, she belongs to the Evangelical Lutheran Church. She sees the DOV as one of the greatest challenges to humanity in trying to achieve peace using non-violent tactics. Email
Liberian crosses of peace
Much affected by the death of his father, two brothers and two sisters, who were killed during the war in Liberia, George Kollie, a former motor mechanic, is now transforming instruments of death into symbols of peace.

With the help of his brother-in-law, George Togba, Kollie is now making small crosses out of cartridges left behind during the war. This craftsmanship has helped them come to terms with the past and work for a non-violent future in Liberia.

George Togba, a former military intelligence officer of the defunct National Patriotic Front of Liberia, says he is no longer prepared to carry arms, but that his mission is to support Liberia's reconstruction efforts.

As a person who previously fought in the Liberian civil war, Togba sees himself as a role model of someone who became a crusader for peace. Making these peace symbols has created employment and income for ten people and their families.

A representative of the cross-makers has been invited to the Berlin DOV launch to give a first-hand account on overcoming violence in a war-torn country. The crosses will be used during the worship service in Berlin.

African theologians commit themselves to work for DOV

Participants of the theological community of the African church and of the African diaspora gathered at Mbagathi, Nairobi, Kenya, 14-18 August 2000, to reflect on their calling and ministry.

The conference noted with approval the forthcoming Decade to Overcome Violence. In their final communiqué, participants committed themselves, among other things, "to work to identify the root causes of violence in our churches and societies, to conscientize our people, and to develop appropriate mechanisms and programmes to deal with this menace".

The participants also identified priority aspects of violence: violence against women and children, including domestic violence, female genital mutilation, ritual murders and accusations of witchcraft.

"We acknowledge and repent of the churches' share in responsibility for all these forms of violence, both by commission and by omission," states the communiqué.