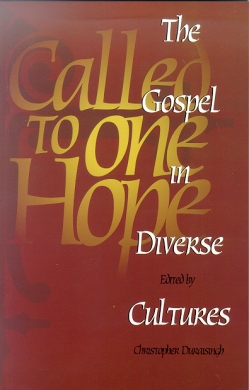 Price:
Sfr 27.50, US$18.90, £11.90
ORDER FROM:
WCC Publications
150 route de Ferney
P.O. Box 2100
1211 Geneva 2, Switzerland
Tel.: (+41 22) 791 6379
Fax: (+41 22) 798 1346
E-mail: Publications
Called to One Hope: The Gospel in Diverse Cultures
It is still the church's primary calling to pursue the mission of God in God's world through the grace and goodness of Jesus Christ... It must be an every-member mission, from everywhere to everywhere, involving every aspect of life in a rapidly changing world of many cultures now interacting and overlapping... The gospel, to be mos fruitful, needs to be both true to itself and incarnated or rooted in the culture of a people... we need constantly to seek the insight of the Holy Spirit in helping us better to discern where the gospel challenges, endorses or transforms a particular culture." From the Salvador conference message
The 11th conference on world mission and evangelism, in Salvador, Bahia, Brazil, in November/December 1996, explored hte nature of Christian witness to the gospel in a world of cultures shaped by forces of globalization and fragmentation and yearning for signs of hope, freedom and community. It highlighted the need to meet the mission challenges of the 21st century through ecumenical and common witness, renouncing all competitiveness and proselytism in mission.
Included here are the texts of ten major presentation, reports from the four sections in which delegates worked and interpretative essays reflecting on the conference experience, including one by the editor which identifies key lines for future mission reflection emerging from Salvador. This is an indispensable resource and reference volume for all concerned with the mission of the church today.
Christopher Duraisingh was at the time of the conference the executive secretary for Gospel and Culture in the World Council of Churches. He now teaches at Episcopal Divinity School in Cambridge, Massachusetts, USA.