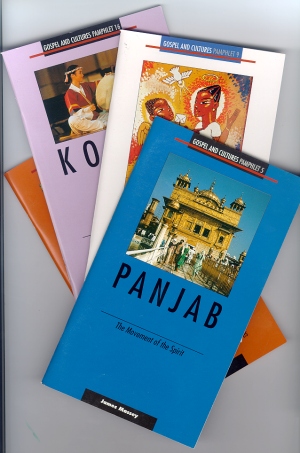 Prices range from Sfr5.- (US$3.95, £2.75) to Sfr7.90 (US$6.50, £4.25). Average price: Sfr6.90 (US$6.50, £4.25)
ORDER FROM:
WCC Publications
150 route de Ferney
P.O. Box 2100
1211 Geneva 2, Switzerland
Tel.: (+41 22) 791 6379
Fax: (+41 22) 798 1346
E-mail: Publications
How is the one gospel related to the many cultures of the world?
This question, debated within the ecumenical movement from the outset, was the focus of the World Council of Churches 1996 world conference on mission and evangelism. In these short pamplets, edited by Christopher Duraisingh, Christians from a diversity of cultural contexts describe and reflect on what it has meant for the gospel to be proclaimed and lived out within the setting of their own culture, thus pointing to both the richness and challenges of this encounter.
Titles in the series
An ecumenical debate, by S.Wesley Ariarajah
Romania, by Ion Bria
Aotearoa New Zealand, by Allan K. Davidson
Wales, by Noel Davies
Germany, An ecumenical study group
The early church, by K.M. George
Panjab, by James Massey
The first nations of Canada, by Stan McKay and Janet Silman
The Scottish highlands, by Donald E. Meek
Zimbabwe, by Ambrose Moyo
West Africa, by John Pobee
Tamilnadu, by Israel Selvanayagam
Women's perspectives, Seven essays
Secularized Europe, by Antonie Wessels
The Caribbean, by Lewin L. Williams
Korea, by Chung Chai-Sik
Indigenous Australia, by Anne Pattel-Gray and John Brown, eds.