Press releases
Documents
Events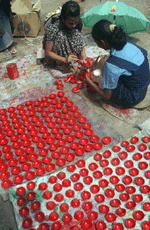 Thousands of businesses flourish in Mumbai's huge Dharavi slum. Selling earthern lamps is one of them. While these lamps bring light to thousands of people Diwali, the festival of lights, those who make the lamps remain in darkness.
Several ecumenical organizations, churches and related agencies have been involved in the World Social Forum (WSF) since it began in Porto Alegre, Brazil, in 2000.
At the fourth WSF, the ecumenical community will again be organizing a number of panels and seminars under one or another of the five main themes of this year's forum.
Affirming the spirituality of life and human dignity will be the WCC's central theological message at the WSF. This theme will underlie the five seminars that the WCC will be running jointly with the World YWCA, the Lutheran World Federation (LWF), Church World Service and other ecumenical organizations.
In all its activities at the WSF, the WCC, LWF, Ecumenical Advocacy Alliance (EAA) and other ecumenical organizations will endeavour to follow an interfaith approach, given India's multi-religious context.
A local ecumenical platform led by the National Council of Churches in India in coordination with other related organizations will ensure that local concerns are taken into account. It will also assist with logistical issues.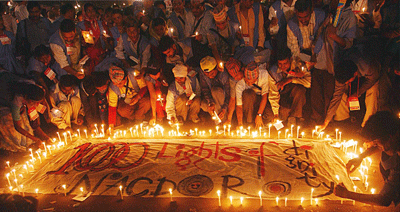 Dalits from the National Conference of Dalit Organizations (NACDOR) at the World Social Forum light lamps, demanding dignity
WCC seminars
Panel on religious resources
(S.no.16, 20 January, 09.00-12.00, Venue:B40)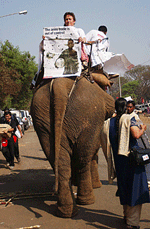 If another world is possible, so too is an alternative demonstration. WSF, Mumbai 2004.