REGIONAL CONCERNS - KOREAN PENINSULA
"We cry out to you from the depths of despair over the division of Korea,
which is the victim of a divided world.
You came to this world as the servant of peace,
You provided love and peace.
You commanded us to love each other.
We rejoice in your promises and recognise your blessings.
You have given us signs of hope in the midst of despair."
(Extract from World Day of Prayer - the Reunification of Korea)

BACKGROUND
The Korean Peninsula remains a flashpoint in the region. It has the potential to ignite a major conflagration. At the end of the Cold War, a number of significant steps were taken to leave behind half a century of confrontation and hostilities. These, amongst others included the former president Kim Dae Jung's "Sunshine Policy" of engagement to improve inter-Korean relations.
The Sunshine Policy led to an historic inter-Korean summit, an October 21 1996 framework, agreed between the United States and the Democratic People's Republic of Korea, that provided a basis for dialogue to pave the way for a more broad-based approach to resolve conflict and a 15 June 2000 Joint Declaration between North and South Korea.
These positive developments received a setback as a result of post-September 11 events that have had profound implications for security and stability throughout Northeast Asia. The US Administration's inclusion of North Korea (the DPRK) in an "axis of evil" further escalated tensions between the two countrie, making the situation in the Peninsula volatile.
Since then, for some two years, US and North Korea have been locked in showdown over the North's nuclear programme. North Korea in 2003 became the first country to withdraw from the Non-Proliferation Treaty (NPT).
The multilateral process of Six Party Talks, comprising North and South Korea, Russia, Japan, China and the US, that began in August 2003 in Beijing, are now in their third round. This initiative provides sign of hope. The parties have agreed to work towards a nuclear-free Korean Peninsula, and most share the view that North Korea's concern over its security must be given due consideration and resolved.
The churches in Korea, in close collaboration with the World Council of Churches, have played a pioneering role in initiating and supporting the discussions on peaceful reunification of the Korean Peninsula and its people. An effective framework for international ecumenical cooperation for this was put in place at an International Consultation at Tozanso, Japan in 1984. This framework provided an impetus to the reunification movement, and was instrumental in bringing church leaders from North and South Korea together in prayer, worship and sharing of each other's concerns for peace and reconciliation.

Above: Young Nak Presbyterian Church, Seoul.

Below right: Worship in Bongsu Church in Pyongyang, North Korea (1999)

Visit to Ecumenical Centre in Geneva by North and South Korean delegations (18 June, 2001). R. to L: Rev. Kim Dong-Wan, General Secretary of National Council of Churches in Korea, Rev. Lee Chung-Jae, Secretary of International Affairs, NCCK, Rev. Lee Jae-Chang, President of the Korean Assemblies of God

.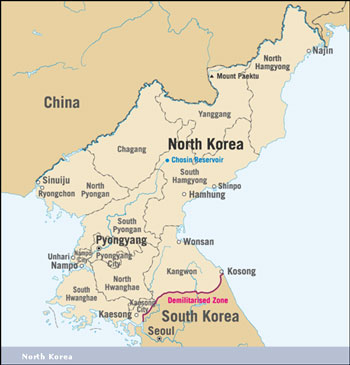 Map courtesy of the International Crisis Group