David Atwood, from the Quaker UN Office in Geneva, introduced the International Action Network on Small Arms (IANSA) and noted that part of the goal of GANSA, as a sub-section of this international network, "is to strengthen and broaden work in Geneva on this area".

Atwood noted that the issue of small arms and light weapons is much more complex than landmines "because there is no single answer to the problem". The issue is multi-faceted and controversial. This is why IANSA "is not a campaign but deliberately called a network out of which may develop specific campaigns". Part of IANSA's strategy is to identify centres, or "nodes", of activity on the issue. Geneva was identified as one such centre due to the presence of the United Nations, various governmental missions, the International Committee of the Red Cross and numerous NGOs.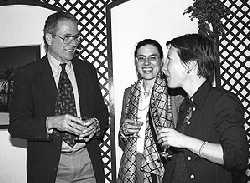 Representing two of GANSA's founding organisations at the briefing were David Atwood (left) of the Quaker UN Office, GANSA coordinator Cate Buchanan (middle) and Michaela R. Told (right) of the Women's International League for Peace and Freedom.