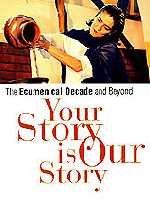 Duration: 23'45".
Price:
CHF 24.50
EUR 16.50
USD 19.50
Order online VHS-PAL
Order online VHS-NTSC
Please add postage:
Switzerland: CHF 6.00
Europe: EUR 10.00
Overseas: EUR 18.00
xxxxxxxxxxxUS$ 13.00
Your Story is Our Story
The Ecumenical Decade and Beyond

This video tells the story of the extraordinary festival marking the conclusion of the World Council of Churches' Ecumenical Decade for Churches in Solidarity with Women (1988-98). Women who came from around the world to take part in the festival, held in Harare, Zimbabwe, addressed the issues of full participation in church leadership, violence against women, human sexuality, and the unique role of women in the Orthodox tradition. As the video demonstrates, there are no easy answers to these questions.

The diversity of views and the excitement and the intensity of the festival come alive in the video through debate, prayer, play and song. At a time when it is easier to be cautious, the video challenges churches and related organizations to confront the issues that divide them and to take the decade a step further.