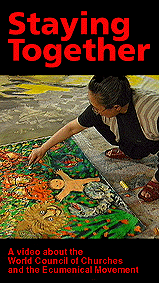 Running Time: 34:10
CHF 24.50
EUR 16.50
USD 19.50

Order online VHS-PAL
Order online VHS-NTSC
Order online VHS-SECAM

Please add postage:
Switzerland: CHF 6.00
Europe: EUR 10.00
Overseas: EUR 18.00
xxxxxxxxxxxUS$ 13.00
STAYING TOGETHER
A Video about the World Council of Churches and the Ecumenical Movement
"We intend to stay together" was the pledge made by representatives of churches from around the world in Amsterdam in 1948 when they assembled in the aftermath of the second world war to establish the World Council of Churches as an expression of their commitment to the unity of the church and an instrument for cooperation.
The vivid images and eloquent voices in this video combine to form an inspiring and challenging portrait of how the churches in the World Council of Churches work with each other to fulfill their common calling to manifest the unity for which Christ prayed, "so that the world might believe".
When ordering, please specify the Television Standard required (PAL, SECAM, or NTSC).
Please note that an italian version of this video is also available under the title "Rimaniamo uniti"