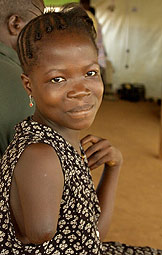 English VHS/PAL - VHS/NTSC
Running Time: 28'40''
CHF 24.50
EUR 16.50
USD 19.50
Order online VHS-PAL
Order online VHS-NTSC
Please add postage:
Switzerland: CHF 6.00
Europe: EUR 10.00
Overseas: EUR 18.00
xxxxxxxxxxxUS$ 13.00
THE ROOTS OF VIOLENCE

"Where are you, God? It's something I have often asked myself. But I have learned that the real question is whether I have the courage to look for God in the midst of violence". (Tom Barnet, Lutheran pastor in Sierra Leone)


Does God hide when the evil side of man takes over? In Sierra Leone thousands of people were massacred, had a limb amputated or were forced to fight as child soldiers in a meaningless civil war. Now a fragile peace has come to the country. Muslims and Christians work together to heal the deep wounds, but what does it take to build reconciliation?


"From Sierra Leone, those who committed the atrocities and their victims talk about their experience of violence and how they perceived God during the war."


1- This film won a prize as the best film in the inter-religious dialogue category at the International Festival of Cinema and Religion in Trento, Italy, 2003.
2- At the 37th WorldFest-Houston; USA at the end of April 2004, "The Roots of Violence" won the top prize (Platinum) in the Religion & Ethic category.