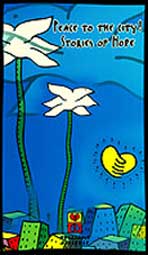 Total running time: 233 min. Versions: VHS/PAL, VHS/NTSC; prices: CHF 24.50
EUR 16.50
USD 19.50

+ postage:
Switzerland: CHF 6.00
Europe: EUR 10.00
Overseas: EUR 18.00
xxxxxxxxxxxUS$ 13.00

Special Package price for the video series and two WCC publications (Peace in Troubled Cities and Overcoming Violence: SFR 45.00 (US$33.00, £20.00) + postage.
VIDEO SERIES
PEACE TO THE CITIES! Stories of Hope
A city stops for two minutes of silence for peace
Ministers, gang members and drug dealers really talk to each other
Former enemies work together in community development
Divided communities come together in interfaith and multicultural activities...
These are some of the stories you'll hear about in an eight-part video series on the Peace to the City! campaign. This global clampaign of the World Council of Churches' Programme to Overcome Violence highlighted creative models of community rebuilding in seven cities around the world - Boston, USA; Belfast, Northern Ireland; Colombo, Sri Lanka; Durban, South Africa; Kingston, Jamaica; Rio de Janeiro, Brazil; and Suva, Fiji.
The series includes a 23-minute introduction that looks at prevailing "cultures of violence" and calls for a "culture of just peace". Short examples from the seven cities that participated in the Peace to the City campaign offer hope and challenges to churches, communities, groups, and individuals wishing to engage in active peacemaking. The introduction is followed by seven 30-minute locally produced videos about each city's imaginative efforts to build bridges between and reconcile communities in conflict.
The complete video series is available in English only.