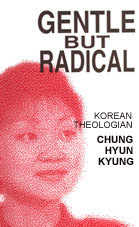 Duration: 32:45
CHF 24.50
EUR 16.50
USD 19.50
Order online VHS-PAL
Order online VHS-NTSC

Please add postage:
Switzerland: CHF 6.00
Europe: EUR 10.00
Overseas: EUR 18.00
xxxxxxxxxxxUS$ 13.00
English PAL and NTSC

Produced by Kilimann Production, Essen, Germany
GENTLE BUT RADICAL
Chung Hyun Kyung shocked many delegates during a presentation at the World Council of Churches 1991 Assembly by invoking the spirits of victims of tragic death. Her image of the Holy Spirit, Chung said, derives from "my gut feeling deep in my people's collective unconsciousness". For many theologians, Chung is guilty of syncretism.
The video follows Chung as she meditates with a Buddhist monk, teaches feminist theology, watches Shamanist and Confucian rites, visits a poor family, talks about the mother of whose existence she learned only as an adult, and worships with other women.
As we watch and listen, we begin to understand the multifaceted Asian, Korean, experience with which Chung's theology is imbued. Confessing that she would like to "do theology that my mother can understand", Chung appeals to her critics: "Listen to us for a while! It will be liberating, healing. Don't take our claims as a threat. It's an invitation, a gift."