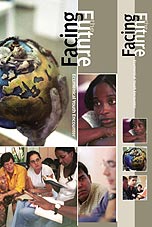 Running Time: 30'30''
CHF 24.50
EUR 16.50
USD 19.50

Order online VHS-PAL
Order online VHS-NTSC

Please add postage:
Switzerland: CHF 6.00
Europe: EUR 10.00
Overseas: EUR 18.00
xxxxxxxxxxxUS$ 13.00
Facing the Future - Ecumenical Youth Encounter
Addressing the theme "Facing the Future", more than 30 young people from churches and student Christian movements (SCMs) in many nations gather in Cuba for a 3-week leadership programme co-sponsored by the World Council of Churches and the World Student Christian Federation. Through an intensive series of encounters, participants come to see themselves and their cultures from new perspectives. Returning home, they embark on local ministry projects with a sense of belonging to one, worldwide Christian movement.
This video follows the diverse youth leaders as they engage in Bible study, worship, dance and song, role-playing exercises and acts of fellowship, as well as frank exchanges on such topics as economic globalization, relations between women and men, challenges presented by HIV/AIDS, and other issues concerning faith and practice. Their experience provides a wealth of possibilities for further discussion. The philosophy behind this multicultural interaction is summed up by one youth:
"Tell me about it, and I'll forget.
Show me, and I'll remember.
Involve me, and I'll understand."

World Council of Churches
150 route de Ferney
P.O. Box 2100
CH-1211 Geneva 2
SWITZERLAND
Tel: +41 (0)22 791 6111
www.wcc-coe.org


World Student Christian Federation
Ecumenical Centre
5 route des Morillons
CH-1218 Grand Saconnex
SWITZERLAND
Tel: +41 (0)22 798 8953
www.servingthetruth.org/