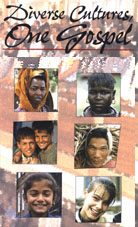 Duration: 22:00
CHF 24.50
EUR 16.50
USD 19.50

Order online VHS-PAL
Order online VHS-NTSC

Please add postage:
Switzerland: CHF 6.00
Europe:CHF 15.00
Overseas: USD 13.00
DIVERSE CULTURES, ONE GOSPEL
Christmas trees and Easter eggs were not among the earliest Christian traditions. Yet since the time of Pentecost, Christians in diverse cultures have been embodying the gospel of Jesus Christ in an amazing variety of ways.
Viewers of this video will quickly realize the complexity, richness and challenges of the encounter of the ospel with cultures in different contexts and will be inspired by the diverse expressions of the mystery at the heart of the Christian faith.
Available in PAL or NTSC.